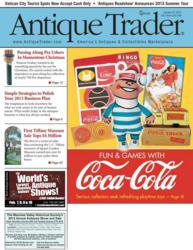 The Heirloom Registry™, a new service offered by Houstory®, has been featured in the latest issue of Antique Trader magazine. The online registry allows users to safely preserve and share the stories behind family heirlooms, antiques and collectibles.
Ferndale, Wash. (PRWEB) January 23, 2013
The Heirloom Registry has been featured in the most recent issue of
Antique Trader Magazine
.
In the article, Houstory founder Mike Hiestand answers questions presented by the well-respected and popular antiques and collectibles publication.
"We are so honored and excited to be featured in the magazine," said Dan Hiestand, Houstory marketing director. "This is a big moment for our growing company. We feel we have a lot to offer to the antiques and collectibles market."
Antique Trader editor Antoinette Rahn said The Heirloom Registry is a valuable tool for antique collectors, antique dealers and family historians when utilized.
"A great many collectors are drawn to an item for the memories and experiences that surround it; it's what helps define its character," said Rahn. "Whether it's grandma's silver flatware, dad's fishing lure collection, or the dresser a couple finds at a little antique shop on their honeymoon, every piece carries a piece of someone's life with it. The Heirloom Registry affords people the opportunity to preserve, reflect and celebrate that nostalgia today and for years to come. It solidifies the nostalgia and its importance in a person's life."
Being profiled by Antique Trader has another plus for founder Mike Hiestand.
"My wife's legendary
cheesecake recipe
came from Antique Trader. She clipped it back in the 1980s when her folks were regular subscribers. I've told my in-laws about all the 'new media' stuff we do (blog, Facebook, Twitter, Pinterest, YouTube), but it makes little sense to them. Now that we're in Antique Trader, we're finally real!"
About Antique Trader Magazine
Antique Trader, a magazine published 26 times per year in Iola, Wis., has served the antiques and collectibles community since 1957. Antique Trader magazine has a weekly circulation of more than 50,000 readers and more than 3,000 unique daily visitors to its website and serves up more than 1 million page views every year. Its blog has been rated one of the most widely read on antiques and collectibles.
http://www.antiquetrader.com
/
About Houstory®: The Stories of Home
The things we care about have stories — whether they are houses, cherished belongings or family heirlooms. But if you are not telling – and just as importantly sharing – these stories, who will? Houstory® has developed two products — The Heirloom Registry™ and the Home History Book™ archival journal — that help genealogists and family historians protect and easily share these priceless stories. Leave a gift for future generations by adding texture and color to your family tree now.
http://www.houstory.com
About The Heirloom Registry™
When you record the history of a family heirloom, antique or collectible in The Heirloom Registry, its story travels with it. Wherever it goes. Always. In just 10-15 minutes, family stories and provenances can be safely preserved. It's inexpensive and simple: Mark/label your item with a high-quality Heirloom Registry sticker, brass or aluminum plate, and share your items' stories in words and pictures at
http://www.heirloomregistry.com
. Once registered, those stories will be available to future owners, no matter where the item goes.